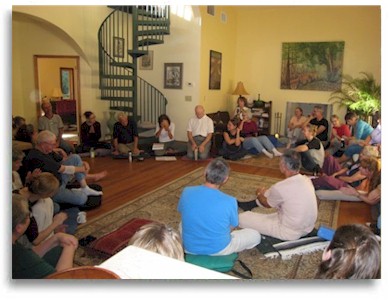 Rasayana Cove welcomes groups who wish to meet in Florida's pristine nature. We are located beside a wilderness creek that feeds the Peace River. The 25 acre property stands privately at the end of a country road in central Florida, surrounded by orange groves and ranchlands with no visible neighboring residences. The retreat is a sanctuary of peace in nature.
One hour east of Sarasota, we are within a few hours drive from Tampa, Fort Myers, Naples, Orlando and Miami.
Yoga groups, meditation groups, women's retreats, shamanic gatherings, workshops, and healing retreats all find the environment here at Rasayana Cove conducive to a journey of inner healing. Our only requirement is that you respect the intent of this retreat by abstaining from alcohol, tobacco, caffeine and other drugs.
Groups may wish to come for a day retreat or for a series of days. There are a number of buildings where 6 to 10 guests may stay varying from rustic charm in the woods to more modern accommodations with air conditioning. Food can be arranged by Rasayana Cove or provided by the group in the kitchen of one of the cabins.
Rasayana Cove has operated as a private Ayurvedic treatment center since 1994. We celebrate the fundamental essence of life with the presence of earth, water, fire, air and space that is so present on this land. Oak forests bid us to retreat, the flowing waters offer a place of cleansing, our fire dhuni invites ritual with fire, and the spacious Florida savannah gives people open space to feel solace in the soul. We invite group leaders to celebrate with us and share this sanctuary with their students.
We arrange each detail with the group leader to meet your specific requirements. Please view the slideshow at http://www.youtube.com/watch?v=i1WiJwURbic to see the property and call us for details.
Meals may be shared on the 12' wide porch overlooking the Florida savannah toward the sunset.