The retreat property at Rasayana Cove gives the opportunity of resting in harmony with nature. Far from the busy cities it offers 25 acres of pristine woodlands bordering wilderness Horse Creek. The habitat is varied -- grassy fields, neighboring cow pastures, majestic oaks, palmetto thickets, cypress bayheads, and two spring-fed ponds. After entering the retreat there are no neighboring residences in view -- only nature's glory. Throughout the property there are walkways in forest shade during the day and in bright moonshine at night. Within this natural setting Rasayana Cove offers a number of different types of retreat programs for individuals, couples and small groups.

Ayurvedic Retreats specializing in rejuvenation programs are modeled after the clinics in Kerala, south India. The treatment programs are tailored for your personal needs with attention to guiding your understanding for maintaining well being. Read more about Ayurveda, about Rasayana, and Rasayana Treatments.
Day Experience invites one or two people for a rich learning experience in Ayurveda with a full constitutional analysis, life style recommendations, cooking demonstration and traditional rejuvenation massage treatments.
Meditation Retreats occur in the shelter of a two hundred year old oak hammock with an original cracker house accommodating one or two people. Popular with writer's and artists as well as meditation practitioners this remote area assures privacy and quiet.
Ayurvedic Day Workshops offer an introductory one day group workshop.
Couples Retreats. 4 types of retreats to match the personal needs of your couple. Rates vary to suit your budget.
Group Retreats of 6 to 10 people are welcome to use the cabins, woods, and waterways of Rasayana Cove.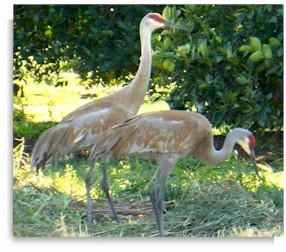 Our guests have seen a variety of Florida wildlife including deer, armadillo, turtles, turkeys, and otters playing in the creek. Herons, cranes, egrets, and many smaller birds can be viewed and heard. We often hear the owls calling to each other in the evening. This is an environment which nourishes the wholeness of our being.
Ayurveda states that health is maintained when atma (soul), indrya (the senses), and manah (mind) are nourished and fulfilled. The lush greenness of our woods and fields pleases our vision while the immense quiet soothes our souls. In nature we experience our elemental source, our oneness with earth, water, fire, air, and space.