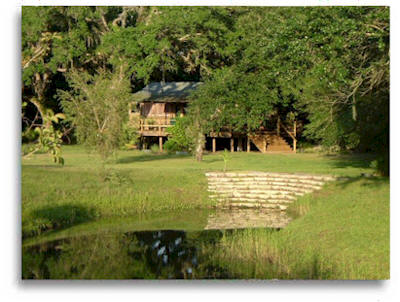 Rasayana Cove offers
customized private
retreats in nature for writers, artists, yoga and meditation practitioners, or those seeking solace.
Overlooking the pristine Florida savannah, this private cabin is located on 25 acres bordering wilderness Horse Creek. Set in central Florida near the picturesque town of Arcadia it is one hours drive east of Sarasota.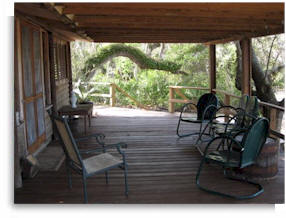 The area is sparsely populated with acres of ranchland and miles of orange groves. The retreat cabin is ideal for people seeking solitude since it stands at the back of the property and offers total privacy. It is nestled under century old live oak trees; their long limbs clothed in verdant resurrection ferns. This cabin has been used as a meditation retreat, writer's retreat or an artist's retreat.
A 12 foot wide porch surrounds the cabin with views on all sides. Inside large picture windows and French doors show the natural vista around the building.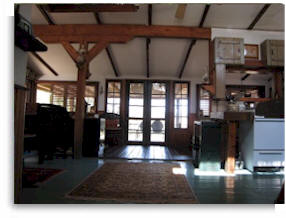 Solar panels supply electricity for the interior lights, kitchen water, and flush toilet. The kitchen is well-equipped with a full fridge and a propane stove. There is a dining area with an old country maple table and chairs, comfortable sitting area, a walk in closet, and a loft that sleeps 1 or 2 persons.
Requirements: This cabin is meant for those who are seeking a retreat from the fast pace of today's culture. It is for people who love the sounds and scenes and scents of Mother Nature. Those seeking an atmosphere conducive to inner contemplation and meditation would find this an ideal environment. Many people seek refuge here for a silent retreat. It is a popular location for a writer's retreat or for an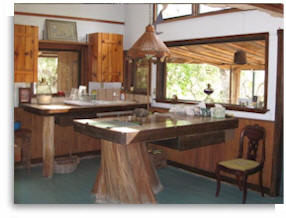 artist's retreat.
We ask for respect for the intent of this cabin and require that residents abstain from alcohol, tobacco, drugs, and that a vegetarian diet be prepared in the kitchen. In this way everyone wanting the solace of a retreat in peace can feel the energy in the space.
Rates for this cabin depend on the duration of the stay and the number of occupants. Please call or email to enquire about rates.