Retreats in Nature
Why Retreat Here
About Ayurveda
About Rasayana
Rasayana Treatments
Fees and Booking
Accommodations/Food

Couples Retreats

Home
About Us
Contact Us
Guests' Remarks
Photo Gallery
Links
Site Map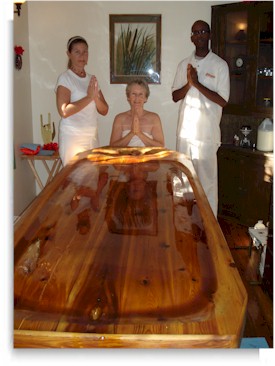 Sarvangadhara is an anointing of the whole body. Two therapists apply 5 quarts of warm herbal oil in gentle continuous streams over the whole body. The client assumes a series of 6 easy lying and sitting positions. After one hour the skin is toweled off thoroughly. The flow of warm oil gently washes away tension accumulated over years of stress. Habitual patterns of holding vital energy deep inside feel opened and soothed. As the treatment progress for a series of days the effects are felt in increasingly deeper areas so that the body and mind are enveloped in a cocoon of warmth and nurturing.
Sarvangadhara was originally reserved as a treatment for the royal families of Kerala to preserve their vitality and joy. Here in the fast pace of American culture this oiling ritual strengthens our ability to digest all that life feeds to us. Pizhichil is especially beneficial for all imbalances of Vata dosha. The digestive fire is stoked and the immune system fortified. This treatment has helped those experiencing auto-immune illnesses as well as other Vata related conditions (e.g. backache, joint pains, poor circulation, fatigue, and anxiety).

The continuous flow of warm oil over the body influences the health of the srotas (channels) -- the channels of prana, digestion and elimination, and the functioning of the mind. There is no wonder why Pizhichil is regarded as the ultimate treatment to renew vibrant health and happiness.