Retreats in Nature
Why Retreat Here
About Ayurveda
About Rasayana
Rasayana Treatments
Fees and Booking
Accommodations/Food

Couples Retreats

Home
About Us
Contact Us
Guests' Remarks
Photo Gallery
Links
Site Map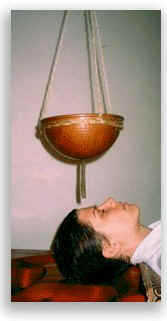 Shirodhara is both profound and subtle. In the Ayurvedic clinics of South India this treatment is only offered daily in a series lasting at least a week, and possibly up to 21 days or more. It is only one therapeutic component of an over-all treatment plan that includes diet, herbal preparations, and prolonged relaxation. Clients are not encouraged to engage in any activity that stimulates thought. If one reads it is recommended that the material be conducive to spiritual thought. No sexual activity or intense physical activity is advised.

The effect of shirodhara is subjective. This treatment in particular represents an interface between the traditions of Yoga and Ayurveda. It creates a meditative sense of awareness as it is focusing and isolating. Dhara, which means "constant flow", is contained in the word dharana, one of the seven stages of yoga realization, generally translated as "concentration". The brow, of course, is that part of the external anatomy associated with the fundamental endocrine glands (pineal, pituitary, hypothalamus) which organize and regulate all hormonal secretions. Hormonal secretions are responsible not only for the autonomic responses which control digestion, breath, elimination, etc., but also our moods and emotional state. Shirodhara is meant to establish a state of parasympathetic repose, an ego-less state, during which the primal intelligence of our body can reorganize its constituents in a manner which leads to healing and well-being, their inherent purpose. Shirodhara can be applied in Ayurvedic healing for conditions of high Pitta as well as insomnia, memory loss, to enhance meditation, and for deep relaxation and rejuvenation.

Traditionally Ayurveda recommends a 14 day program of 7 days of shirodhara and 7 days of the follow-up treatment called picchu. As well as the 14 day treatment we also offer a 7 day program which provides 4 days of shirodhara and three days of picchu.